Midlands sixth formers to monitor young pupils' weight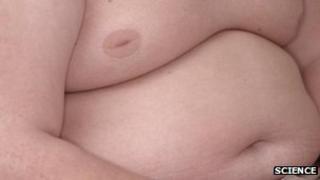 An eating disorder charity says it is concerned about plans for sixth formers to monitor younger pupils' weight.
The Action Medical Research (AMR) charity has funded a study to help find out why there are more obese children.
Year Seven pupils will be monitored by sixth formers at nine schools in the West Midlands and Derbyshire.
AMR said it had ethical approval and parental consent but eating disorder charity Beat said it was worried about pupils collecting data on their peers.
Eating disorder risk
Susan Ringwood, chief executive of Beat, said: "Childhood obesity is a problem and we need to find effective ways of tackling it but there is a danger that children can be stigmatised for their shape or weight.
"Any study has to be handled very sensitively, this is a difficult time for young people anyway because of all the changes their bodies are going through.
"Younger pupils being scrutinised could increase their risk of developing eating disorders or body image issues."
Mrs Ringwood said a 2010 study by Leeds University suggested that people who were bullied, or made overly conscious of their weight, were more likely to go on to develop eating disorders.
Adult supervision
"I'm surprised the study was given ethics approval for pupils to study other pupils, because I know how hard it is for us as a national charity to gain ethics approval for anything we want to do and we are trained professionals," she added.
The study began at Bordesley Green Girls School in Birmingham and Sutton Coldfield Grammar School on Friday.
AMR said the sixth formers were supervised by adults when collecting the data and Year Seven pupils - who are aged 11 and 12 - were entitled to opt out at any time.
Project leader Teresa Arora said the study techniques involved pupils completing a seven-day sleep diary and questionnaires about their sleep patterns, three times a year.
The study also records data about pupils' use of technology, height and weight and academic performance.
Mrs Arora said: "We have to get parental consent first. Bordesley Green is our first school and we have had a 44% uptake. Some pupils have opted out even with parental consent but that is their choice of course.
"The kids seem very responsive to the study. It raises their awareness too about sleep patterns and activity and weight.
Research skills
"At the end of each data collection, there is a debrief and if there are any questions that arise they are encouraged to speak to the sixth formers, or one of us or an external body."
AMR said the study helped sixth formers develop scientific research skills and gave them the opportunity to take part in a real-world study.
In the Midlands a quarter of Year Six children are obese and about 70% of these children will go on to become obese adults, the charity said.
The schools involved are Abbot Beyne School, Burton-on-Trent, Staffordshire; Foremarke Hall School, Milton, Derbyshire; Repton School, in Derbyshire; Bordesley Green Girls School, in Birmingham; Sutton Coldfield Grammar School for Girls, Birmingham; Hamstead Hall Community Learning Centre, Birmingham; Droitwich Spa High School, Worcestershire; Bablake School, Coventry; and Solihull School in the West Midlands.