Credit union director urges payday loan rate cap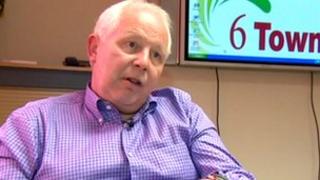 The director of a West Midlands credit union has called on the government to cap the maximum interest rate levied by high-cost credit providers.
Martin Treadgold, from the 6 Towns Credit Union in West Bromwich, said some of the rates were "unethical".
His comments come after the Office of Fair Trading (OFT) announced a new investigation into the practices of payday loan lenders.
A similar OFT probe in 2010 concluded that they provided a "useful service".
"What I'd like to see is rates capped at a reasonable level in line with many of the other European countries," said Mr Treadgold.
"Frankly 4,000 odd per cent [interest] isn't reasonable, isn't necessary and isn't ethical."
European rate cap
John Lamidey, chief executive of the Consumer Finance Association, said that headline APR rates were not a true measure of affordability.
"If you put a cap on the APR, you simply remove this product, you take away consumer choice, you take away competition and you take away the very short-term loan product that people are wanting to use," he said.
"People like this sort of borrowing, they don't want to rack up money on their credit cards, they don't want to rack up big bank loans.
"They want to deal with their immediate problem, right now, quickly, pay it back and move on."
There has not been a cap in the UK since 1974 when a 48% upper limit on interest was scrapped.
Britain remains one of the few places in Europe without a legal cap. In many European countries maximum rate caps are between 15% and 22%.
You can see more about this story on Inside Out West Midlands on BBC One on Monday, 27 February at 19:30 GMT.