Parkour free runners used as 'orangutans' in study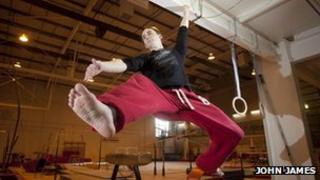 Parkour athletes - also known as free runners - are being used to find out how orangutans move through forests.
An assault course at the University of Birmingham has been designed to replicate the way orangutans travel by climbing and leaping.
The university said the £65,000 study would look at the impact climate change and deforestation had on the way orangutans travel.
Free runners cross urban landscapes by vaulting, leaping and climbing.
Dr Susannah Thorpe, from the University of Birmingham, said orangutans were closely related to humans.
Threatened species
"Humans still have adaptations for living in the forest canopy such as very mobile shoulders and our skeletons are actually very similar to orang-utans,
"What we can do with humans is put a mask on their face that measures energy consumption, but we're not able to do that with orang-utans."
Dr Thorpe said that parkour athletes move around in a highly cluttered urban environment which is not dissimilar to a cluttered arboreal habitat in the forest canopy.
She said: "When you see parkour athletes move, the way they solve problems moving off the ground is actually very similar to the way orangutans do, so they make a remarkably good model."
The Bornean orangutan is on the International Union for Conservation of Nature and Natural Resources (IUCN) red list of threatened species.
Dr Thorpe said that the research would help with their conservation and with the reintroduction of orangutans back into the wild.
She said: "The more you understand about how an animal interacts with its habitat the better able you are to conserve it, or if it comes to reintroducing populations back into the wild, understanding what their requirements are in a new environment."
The study also hopes to provide insights into energy consumption which can be used to improve human performance.
The research is being done by the Universities of Birmingham and Roehampton.
The project is being funded by the Natural Environment Research Council.