West Midlands football memorabilia up for sale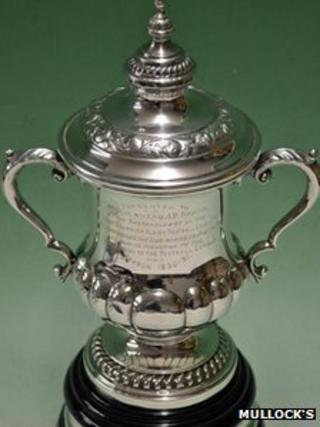 Memorabilia from some of the top West Midlands football clubs is to be sold later.
The two-day auction is being held at West Bromwich Albion Football Club.
Items for sale include a half-size FA Cup presented to the club for their 1931 victory, as well as football shirts and medals.
There are also items from other clubs including Aston Villa, Wolverhampton Wanderers and Birmingham City.
The focus of the first day of auction will be the sale of football trade cards from one of the largest collections in the country, the auctioneers said.
'Cherished heritage'
A West Bromwich Albion League Championship gold watch dating from 1919-20 is also for sale.
It was awarded to Fred Morris, the club's top goal scorer, who managed 37 goals from 39 outings, helping in the club's first league championship winning season.
A club spokesman said: "Anyone who has visited The Hawthorns and, in particular, witnessed the displays in the East Stand will know how deeply the club cherishes its heritage and prizes its memorabilia.
"However, we have duplicate items in our possession which we believe supporters will be very keen to own and, therefore, we feel it is appropriate to make them available in this manner."
Other items up for auction include a 1901 Wolverhampton and District Football League winner's medal, awarded to Lewis Nurse, and items that belonged to Aston Villa player John Robson.
The auction will be held by Mullock's, which specialises in sporting collectables.