Elected mayors debate ahead of Birmingham referendum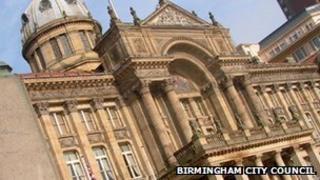 The question of elected mayors has sparked much debate and the idea is again under the spotlight at an event at the University of Birmingham.
It is a hot topic, because in May people in the city will be asked how they would like the council to be run.
Do they want the current system of a council leader and cabinet or an elected mayor with cabinet?
If the referendum poll comes out in favour of a mayor, then voting for the new position will take place in November.
The university debate on Wednesday evening brings together representatives from the community, business, politics and education.
They will debate such issues as the consequences of an elected mayor for the city and region and what powers they should have.
An organisation which is backing the campaign for an elected mayor is Birmingham Chamber of Commerce.
'Huge benefits'
Katie Teasdale, head of policy, said there would be "huge benefits".
"It is our view that an elected mayor of Birmingham will create the step-change to deliver jobs and growth in the city.
"The mayor does not replace councillors, they represent their local areas and are a conduit for the mayor and provide a level of scrutiny for the mayor," she added.
Birmingham Conservative councillor James Hutchings is one of those opposed to the idea for Birmingham.
"We don't need the risk, the cost and the disruption of an unproved system and we don't need to concentrate more power into the hands of one person.
"We've got a figurehead now in the Lord Mayor and we've got a leader whom we call the leader," Mr Hutchings added.
The referendum on whether Birmingham should have a directly elected mayor, who would serve a four-year term, will take place on 3 May.