Birmingham riots: Smethwick park tribute to trio killed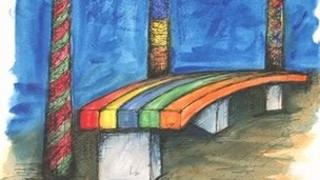 A memorial park bench has been designed to pay tribute to three men killed during riots in Birmingham.
Haroon Jahan, 21, Shazad Ali, 30, and Abdul Musavir, 31, were hit by a car as they protected stores from looters in Winson Green on 10 August.
The bench and three lights representing each of the men were designed by pupils at Victoria Park Primary School and St Phillips Catholic Primary School.
Mr Jahan's father Tariq Jahan said the gesture was very "humbling".
He said: "As a father it's humbling to have your child remembered and recognised in this way.
"For me it's also a way of bringing the community together and seeing young children who are the future for tomorrow take so much interest in what happened over the period of the riots."
Eight people have been charged with murder in relation to the deaths, and one person has been charged with perverting the course of justice.
The bench and lights are due to be installed in Victoria Park in Smethwick over the summer.