Castle Bromwich to make new Jaguar XF Sportbrake estate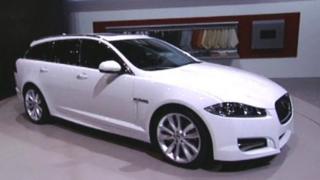 Car maker Jaguar Land Rover (JLR) has confirmed its latest model will be made in the West Midlands.
The firm, which has plants in Solihull and Castle Bromwich, unveiled its XF Sportbrake estate car at the Geneva Motor Show in Switzerland.
JLR also announced plans to expand into car markets in China and Brazil.
But chief executive Ralf Speth, who was in Geneva to promote the new Jaguar, allayed fears that expansion in Asia would cost British jobs.
"We are expanding like never before, but this is not instead of building in the UK - it is in addition to," he said.
Convertible SUV
JLR's head of global design Ian Callum confirmed that production would start later this year.
He said: "The Jaguar main plant is Castle Bromwich. It will go into the Birmingham plant, there's no doubt about that at all.
"There's really no intention to start building cars abroad to import back into the European market."
In Geneva, the company also revealed its first ever convertible SUV - modelled closely on the Range Rover Evoque Coupe.
Tata Motors bought Jaguar and Land Rover in 2008.