St Patrick's parade in Birmingham marks Olympic year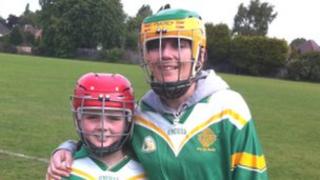 Julie Watchorn-Brennan was inspired to take up the Irish sport of camogie by her father, a hurler. Now she can now see her daughter following in her footsteps.
The three generations are taking part in Birmingham's St Patrick's parade on Sunday, which has a sporting theme to celebrate the London 2012 Olympics.
It will be led by flag bearers from organisations such as the Gaelic Athletics Association in Birmingham, Birmingham Irish Rugby Club and Erin Go Bragh Hurling and Camogie teams.
Described by Birmingham City Council as "the UK's largest St Patrick's Day parade", there will be also be decorated floats and pipe and drum bands.
Organisers said the line-up included classic tractors, cars and a steam engine.
Thirty-eight-year-old Mrs Watchorn-Brennan from Birmingham said she had been playing camogie, a version of hurling played by women, since she was 14.
She said she was inspired by her father, Jim Watchorn, a former hurler originally from Kilkenny.
'Passed down'
"He taught me the skills of camogie really, alongside my coach at training and now it's sort of gone full circle and my daughter's playing so it's been passed down the generations," she said.
Eleven-year-old Maisy, who said playing camogie was "really good", remembers watching her mother play matches.
"It really inspired me to learn more about it," she added.
"I can go to the training, I can meet new people who are at my stage."
She said she was looking forward to taking part in the parade with her mother and granddad.
"We can all walk down the big long road together," she said.
Her mother agreed that they were "excited" and "very proud" to be have been asked to take part in the parade.
'Wonderful day'
"We're all proud to be standing next to each other and be given this opportunity," she added.
Mrs Watchorn-Brennan said among those waving them on would be Maisy's 12-year-old brother Ci.
"We've attended the St Patrick's Day parade over the years and it's an absolutely wonderful day for young and old," she said.
The parade is part of the wider 2012 St Patrick's Festival in Birmingham, which runs until St Patrick's Day on 17 March.