Birmingham anti-mayor campaigners: 'Hitler' leaflet 'truthful'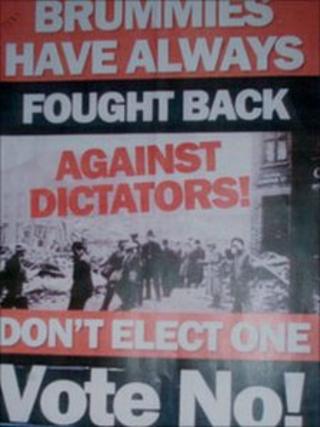 Campaigners behind leaflets comparing the plans for an elected mayor in Birmingham to the Hitler dictatorship have refused to apologise.
The Birmingham Campaign Against an Elected Mayor leaflet depicts a World War II bombing and says "Brummies have always fought against Dictators".
'Yes' campaigner John O'Shea called for an apology over the "obscene" leaflet.
But 'no' campaigner, Labour MP Roger Godsiff, said the leaflet conveyed the dangers of giving power to one person.
Mr Godsiff, Labour MP for Birmingham Hall Green, said: "I'm not apologising for telling the truth.
"If some of the wannabe candidates and their associated PR advisers, consultants, media reps and lobbyists... have had their feathers ruffled by the leaflet, I'm not particularly concerned.
"What I'm concerned about is that people in Birmingham are made aware of the consequences of concentrating power in the hands of one individual."
People in Birmingham and nine other places vote over proposals for a directly-elected mayor in referendums on 3 May.
Where the referendum poll comes out in favour of a mayor, voting for the new position will take place in November.
Birmingham Campaign Against an Elected Mayor claim that if appointed, the mayor would "rule as dictator", not be accountable for four years, and be getting paid more than £200,000.
Its leaflet pictures the aftermath of a bombed out street in Digbeth with the slogan "Against Dictators".
Mr O'Shea, a Labour candidate for the Acocks Green ward in the city council's May elections, demanded an apology.
He told Radio WM's mayor debate on Friday: "It's wrong, it's obscene. It needs to be withdrawn and we need an apology from the no campaign."
He is part of the "yes" campaign which claims an elected mayor will be able to get more done and "unleash" the city's potential by improving the economy, providing more jobs and reducing crime.