Shyheim Jones murder: Birmingham boy, 16, jailed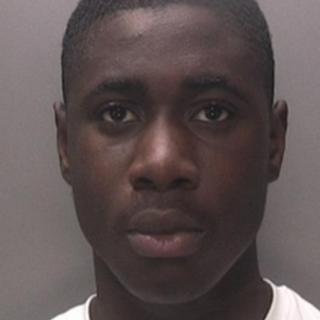 A 16-year-old boy from Birmingham has been jailed for a minimum of 16 years after being found guilty of murdering Handsworth teenager Shyheim Jones.
Ceepreon Christian stabbed Shyheim, 17, in Coventry Road, close to the Small Heath Retail Park, in July 2011, Birmingham Crown Court heard.
West Midlands Police said the murder followed "a long running dispute".
Christian, from Vann Close, Small Heath, was found guilty by a unanimous verdict.
During the trial the court was told Shyheim was attacked while in his uncle's car. He was driven to hospital but died later.
Det Insp Buck Rogers, from West Midlands Police, said: "This was a cold blooded and calculated attack on a defenceless and innocent man.
"Throughout the investigation and indeed his trial Christian has done everything he could to avoid taking responsibility for his actions, which led to the death of Shyheim Jones.
"Although still a young man, it is obvious that Christian is a dangerous individual who deserves to spend a considerable amount of time in custody.
"Our thoughts are now with Shyheim's family and it is hoped that today's verdict will go some way towards bringing closure for his family."