Wolverhampton tyre factory celebrates £6m redevelopment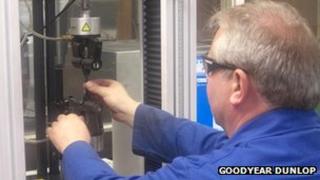 A factory in Wolverhampton is celebrating the completion of a £6m redevelopment.
The money has been spent upgrading equipment and facilities at the Goodyear Dunlop tyre site.
The company said there was also a new loading bay which would be used to export rubber compound made at the factory to Europe.
Three hundred people are employed at the Bushbury Lane plant where a special event is being held on Thursday.
The Mayor of Wolverhampton, Councillor Bert Turner, and local MP Emma Reynolds are among guests visiting the plant which also houses a retreading facility.
Kate Rock, public relations support manager, said it was "wonderful" to see the 85-year-old site fully refurbished.
"A lot of time, effort and investment has been made within the plant to ensure we can offer the most advanced compound technologies in the industry to our sister plants across Europe, Middle East and Africa," she said.
"We will stop production for a short time so that all our workforce, many of which are long service employees, can join in the celebration."