M42 bridge-fall van crash: Birmingham driver dies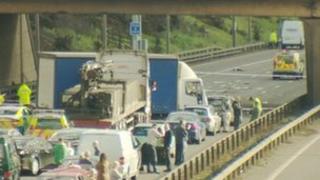 The driver of a van that crashed through a bridge above the M42 in the West Midlands and landed on the motorway below has died in hospital.
His van struck a lorry, another van and a car after it fell 30ft (9.1m) on to the carriageway, at 13:45 GMT, between junctions seven and six southbound.
The driver, a 35-year-old man from Shard End, Birmingham, suffered fatal head and abdominal injuries.
He died whilst undergoing emergency surgery, police said.
The M42 was closed after the crash but has since fully reopened.
A West Midlands Police (WMP) spokesman said an investigation is under way but they believed the man, who had been driving a Nissan Cabstar van, lost control of the vehicle.
'Completely demolished'
He crashed off the A452 bridge on to the motorway between junction seven, where the M42 and M6 meet, and junction six, at Birmingham Airport.
Eyewitness Kim Yeomans, who was travelling on the M42, earlier said: "The only thing that's left of this truck is half of the cab.
"The rest of it's completely demolished."
A West Midlands Ambulance Service spokeswoman said that before crews arrived, the driver had been helped by bystanders after being found lying on the carriageway.
"He had suffered significant head and abdominal injuries," she said.
"Due to the nature of the man's injuries, the doctors decided to anaesthetise him on scene to help stabilise his serious condition.
"The medics and crews worked as a team to deliver emergency treatment before immobilising the man with a neck collar and spinal board."
'Great courage'
However, the man later died, after being taken to University Hospital in Coventry.
"Two men from the lorry suffered from the effects of shock and minor injuries and a man from the car suffered back pain in the collision," the spokeswoman added.
"All three were checked over by ambulance staff and a medic but did not require hospital treatment."
Sgt David Lawrence, of WMP, said praised members of the public "who demonstrated great courage" by helping at the scene.
"I would [also] like to thank... those drivers who demonstrated great patience when unable to continue their journey for a significant period of time.
"Our thoughts remain with the family and friends of the driver."