Military council homes in Birmingham unveiled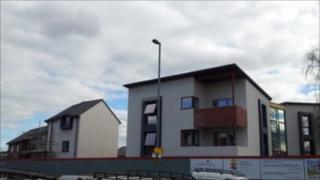 Council homes built specifically for ex-military personnel in Birmingham have been unveiled.
The council said three homes were ready out of 12 built "in response to the need of homeless ex-service personnel".
Ex-soldier Anthony McGowran, who will move into one home with his family, said it can be hard for ex-service people to find accommodation and work.
The homes in Northfield include houses, bungalows and apartments.
The council, which is run by a Conservative-Liberal Democrat coalition, is to hand over the properties to the Alderson Trust.
The charity for ex-military personnel already owns 16 homes in the city.
'Means the world'
Mr McGowran, 24, who served with the 2nd Battalion, the Royal Regiment of Fusiliers, will move into a two-bedroom home on the site with his wife and two children.
He said they were put forward for the ex-military housing scheme after being on the council house waiting list for a couple of months.
"It means the world. I don't know what we would have done otherwise. It's fantastic," he said.
"It will be nice when we get our own place.
"You hear of people coming out of the Army and becoming homeless for a while and having to live in hostels and stuff like that - but it's worked out really well for us."
Debbie Greenhill, from the council's building scheme, the Birmingham Municipal Trust, said more than 50 ex-service people had applied to live in the 12 homes.
She added the demand could lead to similar properties being built.