M42 bridge-fall fatal crash: Driver named as James McAleenan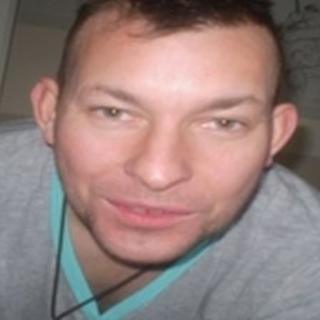 A driver who died when his van went through a bridge and landed on the M42 below has been identified by police.
James McAleenan, 35, from Shard End, Birmingham, died in hospital following the incident on 19 March.
His van collided with other vehicles after falling 30ft (9.1m) on to the motorway in the West Midlands.
Mr McAleenan's family said in a statement he was a "wonderful soulmate" to his wife Becky and "fantastic father" to his son Robin, aged three.
"His sudden and unexpected loss leaves an enormous void in the lives of his immediate family," the statement said.
"He had a quiet and unassuming personality that avoided being in the limelight; however it is fair to say that these characteristics did not prevent him having an immense impact on those he met."
'Good humour'
His family said Mr McAleenan was well liked and respected and was always willing to help others.
"He was hard working and resolute in facing up to life's challenges with the sole aim of supporting and providing for his family, he did all of this with a healthy dose of good humour," they said.
"Naturally we as a family are devastated at the loss of James, but are thankful that no one else suffered any significant injuries in this collision."
Mr McAleenan's family thanked the motorists who came to his aid after the crash, the emergency services at the scene and the medical team who tried to save his life.
Police are continuing to investigate the crash.