'Whistleblower' doctor challenges Walsall Hospital sacking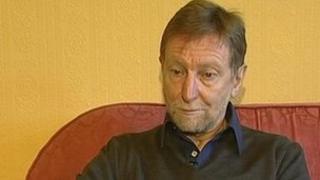 A senior doctor who was sacked by a hospital in the West Midlands for alleged gross misconduct says he was dismissed for being a "whistleblower".
Dr David Drew, a former clinical director at Walsall Manor Hospital, was dismissed on 22 December, 2010.
The hospital cited a breakdown in trust for his dismissal.
In a written statement to an employment tribunal, Dr Drew said the hospital had allowed "terrible deaths" for the purposes of cost cutting.
Dr Drew, a paediatric clinical director at the hospital, had offered to resign from the director's role in December 2007 after seven years in the post, the tribunal in Birmingham heard.
Serious Case Review
The hospital refused his resignation and he continued in the post at the request of his managers.
Four months later he was relieved of his clinical director role, which he claims is linked to when he raised concerns about a colleague's competency.
In a statement submitted to the tribunal on Monday, which was not released to the media until Tuesday, Dr Drew said the same colleague had sent a baby home in June 2006 with "suspicious injuries" and without referral to social services, despite concerns from other members of staff about the baby's welfare.
Sixteen month-old Kyle Keen was killed a week later by his stepfather Tyrone Matthews, from Walsall, who pleaded guilty to manslaughter.
Dr Drew said he told senior managers the paediatrics department was failing to take the findings of a Serious Case Review into Kyle's death seriously enough.
Between October 2008 and April 2009, Dr Drew said he saw further evidence of poor care, such as children being placed in adult wards when it was not always fully supervised.
'Systems failure'
Dr Drew said he had also raised concerns that cutting 27 nurses from the children's department from 2008 to meet PFI hospital requirements and Foundation Trust status criteria would place patients at risk.
He said his fears were confirmed by the view of an independent review panel which reported in March 2010 that cost-cutting measures had failed and there was evidence of "whole systems failure" within the department.
A verbal complaint was raised against Dr Drew in April 2009 and he was suspended for six weeks. An internal hospital investigation was started and it was found Dr Drew had no case to answer.
In his submission, Dr Drew said: "I had been kept away from work, which had been my life, for five months and made ill by it."
The hospital said it accepted Dr Drew was an excellent doctor, but it dismissed him on 22 December 2010 because it said there had been a complete breakdown of trust and confidence.
It said he had failed to accept the findings and recommendations of various inquiries, including a recommendation by an independent review panel that he should refrain from using religious language in all written and professional communications.
The trust said it accepted that his religious references, used as a committed Christian, had not caused offence.
The tribunal continues and is expected to last for three weeks.