Birmingham conference looks at elected-mayor issue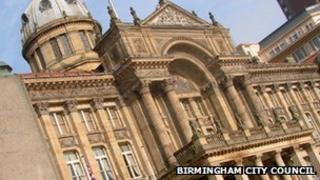 Birmingham residents will be questioning politicians at a conference later ahead of a referendum on a directly-elected mayor for the city.
Minister for Cities Greg Clark and London's Lewisham Elected Mayor Sir Steve Bullock are among those on a panel at Millennium Point, Birmingham.
The referendum on the mayor, who would serve a four-year term, will take place on 3 May.
Charity, the Institute for Government (IfG) is staging the event.
The charity, which helps to improve government effectiveness, was publishing the results of its national poll asking members of the public if they could name their local leader.
Former Vancouver mayor Gordon Campbell and ex-transport secretary and former IfG director Lord Adonis are also among those due at the conference.
At the election on 3 May, people in Birmingham will be asked whether they want the current system of a council leader and cabinet or an elected mayor with cabinet.
Residents in nine other places in England will also vote on elected mayor proposals
Where the referendum poll comes out in favour of a mayor, voting for the new position will take place in November.