England riots: Woman who defied looters blames jobs shortage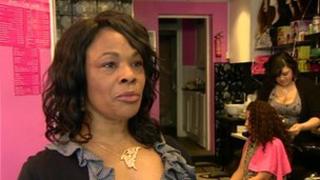 A Wolverhampton woman who acted as a human shield to protect her business from looters said she thought a lack of jobs was a factor in last year's riots.
Hairdresser Louise Johnson said: "That is where the problem is - young people say no-one wants to give them a job."
She has recently given a full-time job to her apprentice.
An independent report into the causes of the England riots cited reasons including poor parenting and an inability to prevent reoffending.
Ms Johnson, of Louise's Hair Salon, said: "More employers should give the young people an opportunity.
'Their cities too'
"That's where the problem is. I speak to young people. They say we can't get a job, nobody wants to give us a job.
"So when Annaliena Clements turned up for me, and she was so polite and willing to work, I said yes, I'd take her on."
Ms Clements said young people themselves had to take some responsibility for the riots.
She said: "I don't think the government should be blamed for it. At the end of the day it's the kids being stupid and just messing about.
"They shouldn't have been out there causing trouble and making a mess of their towns and cities.
"It's their towns and their cities too, they are meant to look after it, not destroy it."
The report by the Riots Communities and Victims Panel also said a lack of confidence in the police was a cause.
A spokesman for a Birmingham-based think tank said he broadly agreed with the report.
Steve Botham, from the Chamberlain Forum, said the riots showed there was a "crisis with our young people" within Birmingham.
'Big questions'
"It's a crisis in terms of hope, it's a crisis in terms of their engagement with society," he said.
Mr Botham said the riots showed there were "big questions for society to answer".
The forum helps public services and communities work together.
The Riots, Communities and Victims Panel report is one of several investigating the causes of the riots - which spread after the death of Mark Duggan in Tottenham on 4 August.
The panel published its interim report last November which said the initial riots had been triggered by the police's handling of Mr Duggan's death.
This second stage of the report was leaked on Tuesday, the day before it was due to be published.