Walsall cyclists unhappy with council's new pothole plans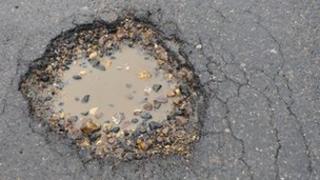 West Midlands cyclists are unhappy with a council's highway maintenance plan that could lead to longer response times when dealing with potholes.
Walsall Council is to consider a new three-year strategy which grades potholes in terms of risk.
Temporary repairs would still be carried out within an hour if there was a risk to life, but it could be up to six months before others are repaired.
Local cyclist John Burns branded the proposals as "a step backwards".
Mr Burns, ride secretary of CTC Walsall, said potholes "should be repaired on the same day as they're reported".
He added that they were "dangerous because we have to weave around them with traffic behind us".
Under the council's current scheme potholes are repaired within 24 hours of being reported.
A spokesman for the authority said all category one road defects, which include gully grates being stolen and potholes near major junctions, would continue to be dealt with within 24 hours under the plans.
He added "permanent" and "cost-effective repairs" would be carried out to those in category two, deemed to be of medium or low risk, but admitted that could mean waiting five days or even six months.