Man killed in West Midlands Police car crash named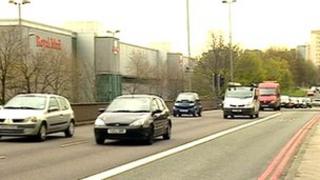 A student who died after being hit by an unmarked police car in Birmingham has been named.
Xuan Wei Zhang, 24, from China, was struck by a black BMW as he stepped into the road outside Newtown shopping centre at about 19:00 BST on Wednesday.
He was taken to hospital with severe head and back injuries, but died on Thursday.
The West Midlands Police car had been responding to reports of a stolen vehicle at the time.
The force said it had not been involved in a pursuit.
Assistant Chief Constable Sharon Rowe said: "This was a tragic incident in which a young man has lost his life after being struck by an unmarked police car.
"I wish to extend my deepest sympathies to the man's family and friends during this very difficult time."
Blue lights
Xuan Wei Zhang's mother and father flew into the UK on Thursday to formally identify his body.
He was studying for an MSc in computing at Birmingham City University and was living with friends in the Newtown area.
The driver of the police car and his companion were travelling to Aston where an officer had spotted a vehicle which was suspected of being stolen.
Their BMW was fitted with blue lights and a siren. It is believed they were in use at the time of the crash.
West Midlands Police said the car was being driven by a uniformed police officer who had received the necessary training to drive police vehicles safely at speed on public roads.
The officer has since been suspended from driving police vehicles but remains active as a police officer.
The matter has been referred to the Independent Police Complaints Commission.
Newtown Row was closed for more than five hours while an examination of the scene took place.