'No funeral or answers' a year after Kingsley Brown's death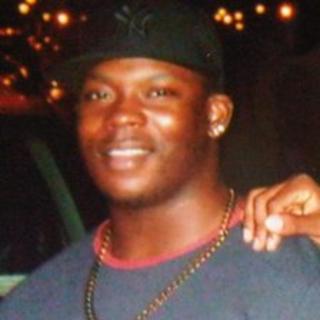 The family of a man who died in hospital a year ago after being detained by West Midlands Police say they still do not know how he died and have not yet been able to bury him.
Kingsley Brown was detained under the Mental Health Act in March 2011 after officers attended an incident in Icknield Port Road, Birmingham.
He died in hospital four days later.
The Independent Police Complaints Commission (IPCC) said more than 100 witness statements had been collected.
Mr Brown's sister, Kadisha Brown-Burrell, told BBC News the family had lost hope.
The IPCC told his family that its investigation would initially take six to nine months, Ms Brown-Burrell said.
'Dragging their heels'
It had also asked an external force, Dorset Police, to investigate the roles of non-police personnel.
But in January they were informed that Dorset Police was now investigating the role of NHS staff in connection with the death of the father of two, and this would take at least six more months.
So far, four police officers have been interviewed under criminal caution and a further 10 as witnesses, the IPCC said.
Ms Brown-Burrell said her 29-year-old brother was detained by police under the Mental Health Act on 27 March after calling 999, saying he was concerned about or felt threatened by several young men nearby.
He was then taken to the Mary Seacole mental health unit in Birmingham after being sectioned.
Police said that three days later, officers were called to support medical staff at a mental health unit over a disturbance involving Mr Brown.
He was subsequently transferred to the Queen Elizabeth Hospital where he died the following day.
Mr Brown had no history of mental illness, his sister said.
His body will not be released by the Birmingham coroner until the IPCC investigation is complete.
Ms Brown-Burrell said she had lost faith in the investigation.
"It's been a year now and they are dragging their heels," she said.
"How can they keep a body for a year? The past year has been painstakingly difficult, frustrating and emotionally overwhelming for the family to begin to come to terms with his death.
"Especially, not being able to lay his body to rest, not knowing the sequence of events that led up to his death and how he died still remains unanswered.
"I personally have no confidence in the IPCC investigation into my brother's death.
"We do not want to prejudice any criminal prosecution, therefore there is not much that I can add, other than to express our family's need to see those investigations concluded quickly so that we can finally say goodbye to Kingsley."
A spokesman for the IPCC said the investigation was nearing its conclusion with more than 100 witness statements having been obtained from police officers, medical professionals, ambulance staff and members of the public.
Footage from CCTV cameras has also been recovered from four locations.
"A large volume of material compiled by the IPCC has been forwarded to Dorset Police to help their investigation," the spokesman added.
"It is not up to the IPCC as to when to release a body.
"We understand that the coroner is waiting for the results of the Dorset Police investigation and we're keeping the coroner and family informed and updated, and that contact is regular."
Deborah Coles, co-director of Inquest, a charity that advises families after a contentious death, said the burial delay was "highly unusual, serving nobody's interests".
"The funeral is an important part of the grieving process," she added.
"It is widely recognised that delays in releasing the body cause unbearable distress to the family, not least to the children involved."
Ms Brown-Burrell said she was planning a second march through Birmingham city centre later this summer as part of her campaign for answers over her brother's death.
His family held a vigil at his house last month to mark the one-year anniversary of his death.
A Dorset Police said it had been requested by the IPCC "to conduct an investigation into the actions of non-police personnel who had contact with Mr Brown".
A spokesman added: "The investigation is ongoing and a number of medical professionals and ambulance staff are helping Dorset Police with their inquiries.
"We are in regular contact with HM Coroner and are acutely aware of the family's concerns regarding the release of Mr Brown's body.
"We are actively pursuing inquiries that will allow Mr Brown's body to be released at the earliest possible opportunity."