London 2012: Jamaican netballers visit Birmingham ahead of Olympics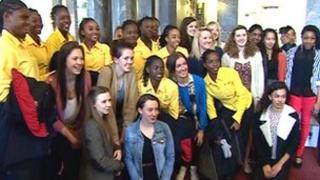 Top young Jamaican netball players are in Birmingham ahead of the country's track and field athletics team training in the city before the Olympic Games.
The Jamaican under-16 netball squad is playing a team selected from Birmingham under a cultural exchange programme leading up to the Games.
The second match of a three-game series will take place on Thursday evening.
Players are also training and visiting places in the city, including the Bullring shopping centre.
The squad was welcomed at a civic reception at Birmingham's Council House on Wednesday afternoon after they arrived in the city on Tuesday.
Birmingham Futsal Arena on Great King Street North hosted the first match on Wednesday evening and will also stage Thursday's second game and the final encounter on Saturday morning before the players leave on Monday.
The initiative follows a visit by a Birmingham under-16 netball team to Jamaica last year.
The University of Birmingham will provide a training venue for the Jamaican track and field team ahead of the Games.