Birmingham City Council party leaders clash over education and jobs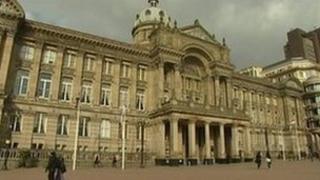 The leader of Birmingham City Council's Labour group Sir Albert Bore has accused the coalition partners of having no clear policy on education.
The council has been run by a Conservative and Liberal Democrat coalition since 2004.
Sir Albert said schools had been left "drifting" through the issue of academies and free schools.
Conservative council leader Mike Whitby said the demise of the local education authority had been a "bit of hype".
Converting to academy or free school status has removed an increasing number schools from the control of local authorities across the country.
Mr Whitby said the city council was still responsible for about 400 schools and pledged that it would continue to improve standards.
Job prospects
He said: "While we have some excellent heads and some great schools and teachers there are some under performing schools.
"We will give them an opportunity, but will monitor performance. We must drive out lowest common denominator education."
However, Sir Albert said "there had been a failure at the centre to help steer schools towards the future".
All three major parties cited education as of key importance to the future of Birmingham and its ability to improve long-term job prospects.
Paul Tilsley, leader of the Liberal Democrat group said the coalition was "preparing for the future" and that the pupil premium would allow about £54m to be invested in some of the poorest areas.
"That will go into the most deprived schools and most deprived children to make sure they have the opportunity of learning and getting qualifications so that they are in a position to take advantage of the upturn in the economy when it comes," he said.
Mr Tilsley added that the coalition had already brought about half a million apprenticeships into the city to allow young people to "earn and learn".
Mr Whitby said the key was to make sure local people were equipped so they could take advantage of jobs created in the city.
Sir Albert said the coalition had not placed a sufficient emphasis on getting people in the city back into work and in "creating opportunities for enterprise".
One third of Birmingham City Council is up for election on 3 May, 40 seats.
On the same day voters will also take part in a referendum on whether Birmingham should be run by an elected mayor.
If people in the city back the plans Mr Whitby acknowledged that many of the powers currently in the hands of the city council would be handed over to the mayor.