Birmingham Medical Institute to sell 5,000-book library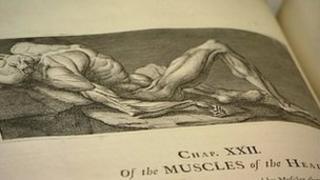 The Birmingham Medical Institute is to auction its 5,000-book library, containing many rare medical volumes, in a bid to raise £500,000.
The institute, which was founded in 1875, said it faced increasing rent costs and falling income.
Some of the books date to 1500 and the collection includes the first book on anatomy in English.
Prof Keith Shinton, the institute's president, said: "It's a sad day for all the medical people in Birmingham."
He said the institute would have liked to have sold the complete library to another institution or university but had found they "don't have the money".
'Very sad'
Book dealer John Lawson, who will be bidding for some of the lots, said the library should never have been put on the market.
"Even though I've been dealing in books for 60 years it's very sad to see a library like this being dispersed," he said.
Auctioneer Chris Albury said the library contained many rare books.
"In amongst here are books I've never, just never heard of - not just one or two but dozens and dozens and dozens," he said.
When the institute was founded in the 19th Century it set up a medical library using books donated by Birmingham General Hospital, the Birmingham library and the Midland Medical Society.
The institute still keeps doctors, dentists and nurses up to date with medical practice, but said demand for the courses it offered was falling.
Prof Shinton said: "People are able to get the information from the internet and there are other organisations going into this area which has reduced the number of general medical practitioners who are using our courses."
The collection will be sold in two parts on 18 April and 26 July.