Petrol and diesel thefts on rise in Wolverhampton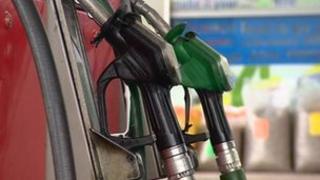 Rising fuel prices could be behind a spate of diesel and petrol thefts at service stations in the West Midlands, according to police.
There have been 83 "bilking" incidents at Wolverhampton forecourts since March and officers believe organised teams are behind many of them.
Sgt Colin Mattinson said the number of cases showed an increase.
Last week the AA said the average price for a litre of petrol had risen to 142.48p with diesel costing 147.88p.
Sgt Mattinson said the force was working closely with the forecourts to crack down on those who were not paying for their fuel, many them using stolen number plates.
He said: "It may well be something to do with the increase in fuel prices. It could be any number of factors really.
"Vigilance is key. People tend to park at the far pumps to try not to show their faces to the cameras and to hide themselves the best as possible.
"I think it's a case of looking at those people and drawing them forward to the further pumps."
Turning detective
Independent petrol retailer Shailesh Parekh said he had trained his cashiers to look out for tell-tale signs but admitted he had still lost around £3,000 as a result of bilking at one of his stations last year, with one van driver leaving with £150 worth of diesel.
Mr Parekh said: "At my petrol stations we've started using websites where you can verify number plates so we haven't suffered so badly [this year].
"You can also go on websites to check if a car is insured.
"You have to be a bit of a detective but it makes you wonder why you're doing the business."
Mr Parekh added that one way to tackle the problem would be to get customers to pay for the fuel up front.
Two people charged with 13 counts of making off without payment appeared at Wolverhampton Magistrates Court on Thursday and are due back next month.