RSPCA officers called out to capture a rubber toy snake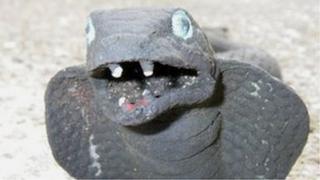 RSPCA officers called out by a "petrified" man who had seen a snake in his garden, turned up to find it was a rubber toy.
The man spotted the 2ft (60cm) long creature on his patio at his home in Hayfield Garden in Birmingham but said he was too scared to go up to it.
When RSPCA inspector Jonathan Ratcliffe arrived at the scene last Thursday he discovered it was a toy cobra.
"I couldn't believe my eyes, because it didn't look real in any way," he said.
"The man was petrified and really genuine in his fear of snakes and therefore hadn't gone close enough to realise it wasn't real. He couldn't stop apologising for his error," he added.
The RSPCA said it was a mystery how the toy snake had got there and it would not be launching an investigation to find out.