Snow Hill homeless apartments prepare to open in Birmingham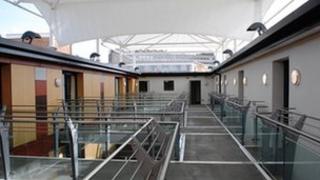 Staff are due to get their first look inside a new £10m apartment complex for homeless people in Birmingham later.
The 92-unit Snow Hill building is based on the site of a former hostel and homeless shelter.
Owners Midland Heart said almost half of the one-bedroom apartments would be let as affordable homes to private tenants to help fund the project.
The other properties are designed to help homeless people live independent lives, the organisation said.
Support workers are available on site 24 hours a day and many of the properties have been equipped with intercoms to contact staff.
Snow Hill, which has been built by developers Eye, also includes a number of communal areas, including a cafe to help create a community feel.
Social enterprise bakery Frost and Snow, which supports former homeless people in getting back into work, will also be based on the site.
Midland Heart said rather than a hostel, the apartments would help homeless people develop confidence and life skills.
The first residents are expected to move in on Monday.
The project has been funded by the Homes and Communities Agency, Birmingham City Council, Advantage West Midlands and Homeless Link.