GP denies claims over Birmingham TB victim Alina Sarag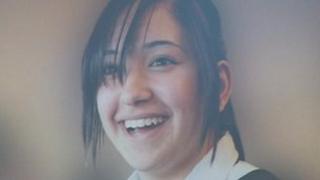 A doctor has denied recommending a spiritual healer to a girl in the weeks before she died from tuberculosis (TB).
Alina Sarag, 15, died last year at Birmingham Children's Hospital after making several visits to her GP's surgery and four different hospitals.
Dr Sharad Pandit told an inquest that Alina's symptoms did not suggest she had TB in late October 2010, about 11 weeks before her death.
He rejected accusations that he used an aggressive tone towards Alina's father.
Dr Pandit, who heads Birmingham's Highgate Medical Centre, told the inquest he could find nothing clinically to indicate serious illness when he assessed Alina, from Sparkbrook, Birmingham, on 22 October.
'Not the case'
Giving evidence to the Birmingham Coroner, Aidan Cotter, he said: "I fully accept that TB did not cross my mind as a possible explanation of her symptoms."
Rejecting accusations that he used an aggressive tone towards Alina's father, Sultan Sarag, Dr Pandit added it was "simply not the case" that he threatened to throw him out of the surgery.
He said: "I wouldn't have recommended a spiritual healer, although it is possible this was raised with me."
Giving his version of a disputed conversation concerning his recommendation that Alina should see a psychologist, Dr Pandit said it had not taken place in the teenager's presence.
Previous history
He told the inquest he had made two additions to the teenager's medical notes after a meeting with other health professionals following her death.
Dr Pandit added that, as a GP, he still did not know what else could have been done to save Alina's life.
Another GP at the Highgate surgery, Dr Khalid Iqbal, said he believed Alina did not have active TB when he assessed her on four dates in September and October 2010.
Dr Iqbal eventually referred Alina to Birmingham Children's Hospital but did not pass on details of her previous history of latent TB in his referral letter.
He said: "I don't think she had active TB at the time."
The inquest was adjourned until Friday.