Cultural Olympiad show The Voyage rehearsed in Birmingham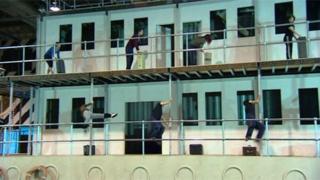 Rehearsals have started in Birmingham for one of the biggest events of the Cultural Olympiad.
The Voyage, due to be premiered in Victoria Square on 21 June, will feature a 50ft ship and about 140 dancers and acrobats.
The free show will open the London 2012 Festival in the West Midlands and will be one of 70 arts events due to run during the Olympics.
The ship has been built at the NEC to allow performers to rehearse the show.
Organisers said the performance would be one of the largest and most ambitious to take place in the city.
Producer Stuart Griffiths said the UK had embraced the cultural aspect of the Olympics.
He added the resources available allowed them to create a "once in a generation" show.
The ship will serve as both a backdrop and a stage for performers including high-wire acts.
It is expected to take 10 days to move it from the NEC to Victoria Square. Once rebuilt, it is designed to be the height of the town hall.
Two years in the planning, The Voyage was conceived by Warwickshire dance group Motionhouse and Australian aerial specialists Legs on The Wall.
The Voyage opens on 21 June and is due to run for four nights.