Police metal thefts team launched in the West Midlands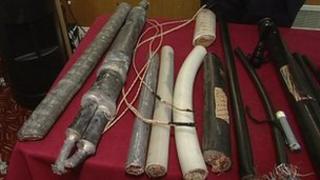 A new specialist police team has been appointed to tackle metal thefts across five Midlands counties.
The squad will be based at Bloxwich police station from June and will work with the West Midlands, West Mercia, Staffordshire and Warwickshire forces.
Police said the team would use shared intelligence and monitor scrap dealers to clamp down on the crime.
Insp Gordon Roberts, who will lead it, said high prices being paid by rogue dealers were "fuelling the problem."
"Thieves can go into their local scrap dealer and get some very good prices for things like lead flashing off roofs and metal railings - we want to work with them to stop that," he said.
"We're making sure [that in] any transaction that happens people will have to give identification, whether it be a driving licence or photocard ID, which will clamp down on people trying to sell off stolen metal."
'Devastating'
Earlier this week, West Midlands Police announced that the number of metal thefts across the region had halved since the start of 2012.
Between 1 January and 30 March there were a total of 1,062 cases.
Insp Roberts said the team would also work with organisations including British Telecom, Network Rail and utility companies who have had cable and pipework stolen.
On Friday, the team met representatives from churches in Birmingham to talk about crime prevention.
"There's a number of techniques they can use like Smartwater [a security liquid that clings to surfaces] or putting anti-climb paint on some railings, there's a whole industry they can tap into," Insp Roberts said.
St George's church in Edgbaston installed CCTV cameras after its roof was targeted three times in five months at the start of 2012.
Carol Cowes, from the church, said: "It's devastating. It's going to cost a great deal of money to repair, around £20,000 for just £1,000 worth of lead stolen."
"After the second theft we became so worried that we hired a security firm to be in the church at night but we couldn't maintain that kind of an expense, we just don't have that kind of income."
"After speaking with the police we put the cameras in and that eventually led to a successful prosecution."