Birmingham Airport passenger numbers increase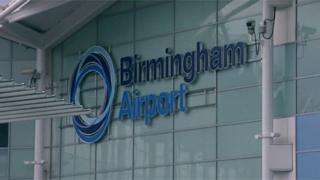 Some 16,000 more passengers have been flying from Birmingham Airport compared with the same time last year, according to the latest figures.
A 2.3% rise in April was due to a rise in both business and leisure travel, Chief Executive Paul Kehoe said.
He said: "Before Easter I would have said it was all business."
He added that a "return to leisure" since Easter had been "a great surprise," with a number of airlines showing rapid growth.
Work has already started on a £40m runway extension, which Mr Kehoe said would be a "game changer".
The runway will allow direct flights to the far east and the west coast of the United States.
'Window of opportunity'
He said: "I can't guarantee we'll get all the routes we want on it, but it gives us the opportunity of going for those routes."
Mr Kehoe added: "The exciting thing for us is that government policy is saying no new runways in the South East, and even if there were to be one, we've got a 10-year window of opportunity to exploit.
"I think once we capture the traffic here in Birmingham it should stay."
Three of 13 routes operated by BMI Baby out of Birmingham are due to end this month, after owners IAG decided in May to ground the loss-making airline.
The other 10 routes are due to finish in September, although the airport said it was hopeful that the routes would be taken by other airlines.