Alina Sarag TB death: Neglect 'played part'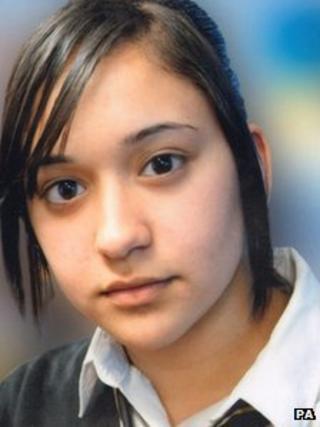 A teenager from the West Midlands who contracted tuberculosis (TB) died from natural causes but neglect played a part, a coroner has ruled.
Alina Sarag, 15, died last year at Birmingham Children's Hospital despite nine visits to her doctors' surgery and four different hospitals.
Coroner Aiden Cotter said it was a "gross failure" of her GP, Dr Sharad Pandit, not to refer Alina for tests.
Alina's parents have said they intend to take legal action.
The inquest heard health professionals told the teenager she may have bulimia.
A review into her care identified missed opportunities to diagnose her condition, the inquest was told.
Mr Cotter cleared Birmingham Chest Clinic and the hospitals involved in the case of any gross failure in their care of Alina, but said it was more likely than not that she would have tested positive for TB.
'Failed' by professionals
Mr Cotter said: "A diagnosis should have been made and treatment should have been started.
"I am satisfied that the failure to take action did have a direct causal connection to Alina's death.
"At the very latest that referral should have been made on 8 December 2010. [The GP] should have ensured tests were carried out."
After delivering his verdict, Mr Cotter revealed he intends to write to medical training organisations to voice concern that some of the doctors did not seem to be fully aware that latent TB can be made active by a subsequent and different illness.
In a statement released through their lawyers, the Sarag family described Alina's treatment as an "appalling example of systemic failings in patient health care".
Solicitor Mr Thomas Riis-Bristow said: "Alina's family reached out to the medical profession and we feel that she was sadly failed throughout this time.
"The family are devastated by their loss and deeply saddened to learn that the death could have been avoided and that medical care could have treated her TB."
'Lost weight'
Alina had been treated in 2009 for TB which she is thought to have contracted from a fellow pupil at Golden Hillock School in Birmingham.
The inquest heard she appeared to recover from the condition and was discharged from a chest clinic in October 2009 after telling medics she felt fine.
She became unwell after a holiday to Pakistan in the summer of 2010 and was seen by two different GPs in the following months.
She also visited four different hospitals in the West Midlands between August and October of 2010 as she lost weight and suffered from repeated vomiting.
Dr Pandit, one of two GPs working at Birmingham's Highgate Medical Centre at the time, told the inquest Alina's symptoms did not suggest she had TB in late October 2010, around 11 weeks before her death.
'Raising awareness'
He told Mr Cotter he could find nothing clinically to indicate serious illness when he assessed Alina on 22 October that year.
Another GP at the Highgate surgery, Dr Khalid Iqbal, told the court he believed Alina did not have active TB when he saw her on four dates in September and October 2010.
The inquest heard Dr Iqbal eventually referred Alina to Birmingham Children's Hospital but did not pass on details of her previous history of latent TB in his referral letter.
Mr Riis-Bristow, said: "I can confirm that we will be pursuing civil action on behalf of the family and we will also be reporting Dr Pandit to the General Medical Council."
Denise McLellan, chief executive of Birmingham and Solihull NHS Cluster, said after the inquest: "We would like to express our sincere condolences to Alina's family and friends on her sad death.
"We note the coroner's recommendations and, together with colleagues from local healthcare services and GPs from across the city, we will look at them in detail to establish where improvements to services can be made.
"Raising awareness of TB amongst clinicians and people living in high-risk communities remains a key priority for us and we will continue to build on our activities in these areas."