Company agrees to cut size of Brierley Hill waste pile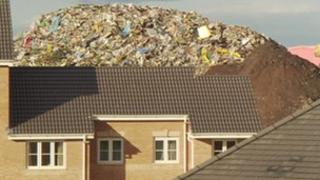 A company responsible for a pile of rubbish that has towered over homes in the West Midlands has agreed to cut the height of the waste.
Dudley-based RDF (Refuse Derived Fuel) Ltd has agreed to reduce the pile in Brierley Hill to 6m (19ft) by 12 October.
In May the company was given until 15 June to reduce the pile to no higher than 8m (26ft), which it adhered to.
The agreements were made at a High Court hearing in Birmingham.
The company has previously ignored five warnings of deadlines from the Environment Agency and an inspection of the pile was carried out on 15 June.
David Hudson, from the Environment Agency, said: "I'm pleased to see that it's actually starting to have some effect.
"I think this represents the first sign of real progress on the site and the level of waste is really coming down.
"I appreciate that the local residents have been very frustrated by this."
The Environment Agency has previously said that the pile was about 13m (42ft) high.
Residents have said the pile, made up of household and industrial refuse, is a health hazard.