Former Staffordshire soldier wants more help to find work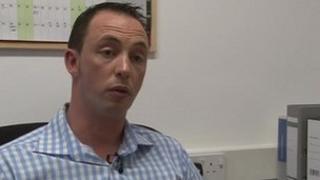 A former soldier from Staffordshire is calling for more support to be given to ex-service personnel looking for jobs.
Andrew Radford served in the Household Cavalry for 14 years, reaching the equivalent of sergeant, but struggled to get work when he left.
The 30-year-old, from Stone, only got a job after a local newspaper highlighted his problem.
The Ministry of Defence (MoD) said it offered a range of support to all members of the armed forces.
Mr Radford, who was awarded the Conspicuous Gallantry Cross for saving a comrade's life in Afghanistan, said he experienced numerous rejections when looking for jobs after leaving the Army in March.
'Achievements not understood'
He said: "I was applying for maybe 20 jobs a day with no reply on the majority of them.
"I did think that I had quite good managerial skills, that would transfer into civilian life, but as it turned out I don't think the civilian employers necessarily understand your achievements within the forces."
Mr Radford eventually started work as an operations manager with construction firm Kier, in Stoke-on-Trent, in May.
Figures from the Royal British Legion estimate that 250,000 veterans are unemployed and about 18,500 people leave the forces each year.
Jane Britton from the legion said people needed to plan before leaving the forces.
'Successful transition'
Ms Britton said: "I think the people in the forces will hopefully be given resettlement support from the MoD… and it's getting them to think about what they need to do before they come out."
An MoD spokesman said: "The men and women of our armed forces are among Britain's bravest, most upstanding citizens.
"After leaving the services, the vast majority build successful civilian lives, playing important roles in their local communities.
"The MoD offers a range of job search, education and housing support to all members of the armed forces, both past and present.
"Research indicates that the vast majority find service a positive experience and make a successful transition to civilian life."