Birmingham riot car deaths an 'accident'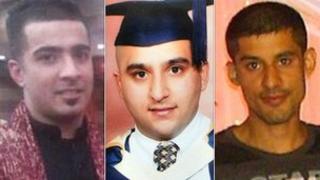 A man accused of deliberately driving into three men during last summer's riots in Birmingham says their deaths were an accident.
Haroon Jahan, 20, and brothers Shazad Ali, 30, and Abdul Musavir, 31, died after being hit by Ian Beckford's Mazda on Dudley Road, Winson Green.
Mr Beckford, 30, is one of eight men who deny murder at Birmingham Crown Court.
He said he was trying to flee from a group armed with sticks and rocks.
A group of up to 100 men, including the three victims, had gathered to protect local homes and businesses on the evening of 9 August, after they had been targeted by looters the previous evening.
Mr Beckford, of Holly Bush Road, Quinton, told the court: "I was just frightened, I just wanted to get past the group, that's all I wanted to do.
"I didn't want my car to get smashed up because I had that car up for sale."
'Not realistic'
Asked by his barrister Paul Lewis QC if he had intended to kill the two brothers and their friend, he said: "No I did not.
"I'm not capable of doing anything like that. I could not just drive my car into people and kill them. I haven't got it in me to do something like that.
"I wouldn't do something like that, not in a million years I wouldn't."
"To me it was an accident, to me it was absolutely an accident."
The three victims were hit by the car in the early hours of 10 August and were later pronounced dead in hospital.
"There is no way I could have prevented that from happening. It could have been prevented but not by me. It could have been prevented by the group [on the roadside]," Mr Beckford added.
The prosecution claims the victims were among a group of pedestrians deliberately drawn into the road by another car, before being hit by the Mazda, after it was planned in a side street minutes earlier.
'I've got kids'
Beckford denied being part of a plan to target the men and described the prosecution's case as "not realistic".
He described brothers Abdul Musavir and Shazad Ali as "good friends".
He added: "Both of them was my very good friends, the people I sat down and ate food with, I would never have done that to nobody.
"I've got kids, I've got a family, and I wouldn't want anybody to do that to my family so I wouldn't do that to no-one."
After the incident, the court heard Beckford went to his brother's home in Lancashire, before handing himself in to police in Birmingham several days later.
He said: "I couldn't eat, I couldn't sleep, I was hysterical.
"I was badly cut up and at the same time I was thinking, 'what was the need? Why did it happen? For what reason?'
"I was trying to clear my head but my head is never going to be cleared, ever."
The other defendants are: Adam King, 24, of no fixed address; Ryan Goodwin, 21, of Cranford Street, Smethwick; Joshua Donald, 27, of Kelsall Croft, Ladywood; Shaun Flynn, 26, of Wandsworth Road, Kingstanding; Everton Graham, 30, of Mount Pleasant Avenue, Handsworth; Juan Pablo Ruiz-Gaviria, 31, of Coplow Street, Ladywood, and 18-year-old Aaron Parkins, whose address has been withheld by the court.
The trial continues.