Thomas Kirwin: Nightclub stabbing victim's family make appeal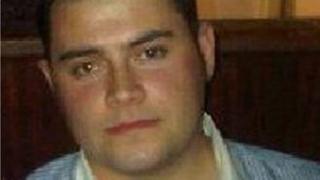 The family of a man stabbed outside a nightclub has appealed for help catching his killers.
Emer Kirwan, mother of 23-year-old Thomas, who died outside Uberra Club in Wolverhampton on Sunday, said her heart had been "ripped open" since his death.
Police said there was an altercation inside the club and several people were asked to leave but trouble flared outside and Mr Kirwan was stabbed.
Mr Kirwin, a Shropshire factory worker, was planning to marry next year.
His mother said she had lost her "rock".
'My beloved'
"Please if there is anyone out there who knows anything, however small, please come forward so we can catch this despicable person who has took my beautiful son away from me," she said.
"My heart is completely ripped open and I don't know how I am ever going to carry on without him, he was my rock."
Mr Kirwin's girlfriend of six years, 21-year-old Jade Elwell, asked anyone with information to contact police.
"We were planning to get married next year and all I have now is fond memories of my beloved Tom," she said.
"I plead to anyone who has any information about the night he was killed, please come forward no matter how small it may be as Tom's death has affected many lives and devastated mine, please come forward."
Det Insp Warren Hines said Mr Kirwin worked at Bridgnorth Aluminium and was planning to set up a local football team in the area and also had plans to join the Territorial Army.
"A young man has lost his life and we are determined to catch whoever is responsible," he said.
"I would urge anyone with information to come forward and contact us before we come to you."