Injured servicemen meet Queen Elizabeth medics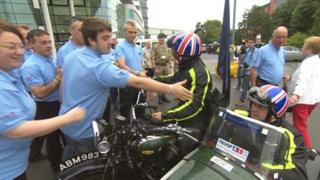 Injured servicemen taking part in a vintage motorcycle charity ride have stopped in Birmingham to meet the medical staff that treated them.
Ben Parkinson, a Paratrooper badly injured in Afghanistan in 2006, is among the riders taking part in the trip from Scotland to the south coast.
The team stopped at the Queen Elizabeth Hospital where injured soldiers receive specialist treatment.
The journey is co-organised by the Birmingham charity Troop Aid.
Double amputee Sapper Jimmy Wilson, also taking part, said: "We've got two double amputees sitting in side cars - I'm one and Ben Parkinson is the other - and we have got single amputees which are actually driving the bike themselves."
Last month, Mr Parkinson, who also broke his pelvis, his back in four places, shattered his arm and chest, as well as sustaining a massive brain injury in the bomb attack, walked with the Olympic torch through Doncaster.
The bikers hope to end their ride in Plymouth on Sunday.