London 2012: Australian Olympic judo team training in Walsall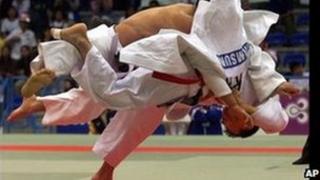 The Australian Olympic judo team has arrived in the West Midlands.
Six players and three coaches are completing their final preparations at the University of Wolverhampton's Walsall Campus.
Most arrived over the weekend and are staying in the student village, next to the sports centre, before travelling to London at the end of the week.
The centre is recognised by the British Judo Association as a high performance centre for junior players.
The Gorway Road venue opened in 2004 and has hosted junior judo competitions.
Jake Andrewartha, 22, who is competing in the over 100kg category, said: "The whole experience so far has been excellent.
"[It's my] first Olympics, it's the very last thing I thought I would be doing in my life. It's done so much for me, this is Christmas come early.
"I am going to try my best, I have nothing to lose and I'll just try and make the most of it."
The Olympic judo competition gets under way on 28 July.