Birmingham riots murder trial: Chief Constable Chris Sims 'should resign'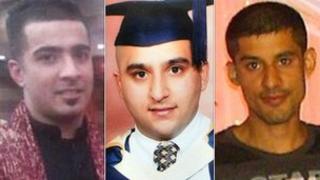 The chief constable of West Midlands Police should resign over the actions of a detective at the murder trial of eight men, a community leader has said.
The men were found not guilty of the murder of Haroon Jahan, 20, Shazad Ali, 30, and Abdul Musavir, 31, who died on 10 August after being hit by a car.
The judge at Birmingham Crown Court said Det Ch Insp Anthony Tagg had "invented" evidence given under oath.
Raj Rattu, from a Handsworth residents' group, said: "Heads need to roll."
Trial judge Mr Justice Flaux found that Det Ch Insp Tagg had lied to him on oath during a hearing held in the jury's absence. The Independent Police Complaints Commission is investigating Mr Tagg's conduct.
Mr Rattu, who chaired an emergency meeting between police, the council and community groups following the trial verdict on Thursday, said: "We can't say how much of an impact the perjury had on the outcome of the trial, but for an officer to lie - it undermined the whole case.
"The chief constable [Chris Sims] is responsible for the actions of all his officers and the accountability has to stop with him as the most senior officer."
Chief Constable Chris Sims said: "Determining a police officer has lied in court is a serious issue.
"I do not at this time understand how, on the facts currently known, this decision has been reached.
"Whilst we support the IPCC inquiry, I have asked officers and legal advisers to review transcripts and statements on that part of the proceedings to determine what steps I may wish to take on this matter.
"I continue to meet with members of the community who are working hard to maintain calm and strengthen relationships. I will do all I can to support their work."
Mr Jahan, Mr Ali and Mr Musavir died on 10 August after being hit by a car on Dudley Road in Winson Green, Birmingham.
They were part of a group of about 80 men who had gathered to defend local businesses after riots and looting had started in the Handsworth area.
All eight defendants denied they planned to kill the men in a co-ordinated attack using three cars, and said the deaths were an accident.
Derrick Campbell, from Race Equality Sandwell, met senior West Midlands police officers at Lloyd House earlier on Friday where he said some "pointed questions" were asked.
"The police, in no uncertain terms get the concerns that have been raised, and they tell me they'll be responding in due time.
"Local communities still have faith in the police but they understandably have lots of questions and the police know this.
'Justice not served'
"Once they get answers I'm sure communities will be reassured because we need to build these relationships between police and our communities."
Mr Campbell said he would not be calling for Mr Sims to resign but felt there needed to be a "serious look at his ability to continue to do the job that he was selected to do".
"The police evidence didn't seem concrete enough and serious questions have to be asked of the Crown Prosecution Service (CPS)," he added.
"It was clear on a number of occasions during this trial it could've collapsed numerous times because the strength of the evidence wasn't there."
The CPS said when it looked at the evidence presented by the police against the eight men, it was "satisfied" there was enough to bring a murder case to court.
Labour councillor for the Handsworth Wood ward Paulette Hamilton said Mr Tagg's actions had "damaged police community relations".
"West Midlands Police need to come across as far more transparent. The chief constable has many questions to answer because families have lost their children," she said.
"But we do have to be mindful of what we say and do, because many people feel that justice has not been served and we have to deal with that in a sensitive manner."