Paralympic torch on show at Birmingham store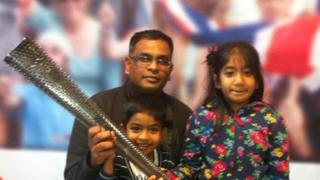 An official Paralympic torch has been on show at a Birmingham city centre store in the build up to the torch relay.
Shoppers could be photographed with it at Sainsbury's on Union Street as part of the firm's Paralympics sponsorship.
The relay will begin in London on 24 August with the lighting of England's flame.
A flame will be lit in greater Belfast, Cardiff and Edinburgh on each of the following days.
Each flame will be taken to Stoke Mandeville, home of the Paralympic Movement, where they will be combined at a ceremony on 28 August to create the London 2012 Paralympic Flame.
Later that evening, a 24-hour relay will start from Stoke Mandeville, as torchbearers will carry the flame to the Olympic Stadium to light the cauldron at the opening ceremony of the Paralympic Games.