M6 crash: Two vehicles were stationary in inside lane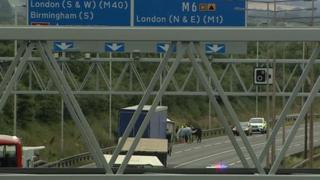 A horsebox and a van involved in a crash which shut the M6 in the West Midlands were stationary when they were hit by a lorry, police said.
The motorway was closed in both directions on Monday after the accident on the southbound carriageway near junction 4A, the M42 exit.
A horse died, while a man and a woman were airlifted to hospital.
A police spokesman said the vehicles had stopped in the inside lane and the drivers were in the carriageway.
'Serious condition'
Insp Mark Watkins said the drivers were walking on the carriageway when struck by the lorry.
"What we need to understand is why the vehicles stopped and why the occupants were standing in a live lane," he said.
The van driver, a 49-year-old man from Willenhall, Walsall, and the horsebox driver, a 40-year-old woman from Oswestry, remain in a serious condition in hospital.
Thousands of motorists were caught up in the disruption, with the motorway closed between junctions 4 and 6.
The northbound carriageway reopened at 20:50 BST and the southbound carriageway reopened at 23.40.
Two other horses on the carriageway were secured by members of the public until officers arrived and were later tended to by a vet.