Stress in war veterans in Birmingham on the rise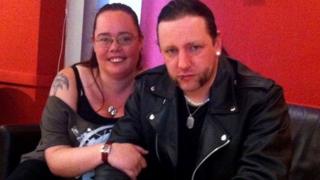 The number of ex-servicemen seeking help for post-traumatic stress disorder is "staggering" according to charity workers in Birmingham. The BBC speaks to some of those trying to tackle the problem.
"I was walking around with a suicide note in my pocket."
Steve, 38, from Edgbaston, suffers from post-traumatic stress disorder (PTSD) after spending six years in the army serving in Northern Ireland and Bosnia.
He was discharged in 1996 but says the condition kicked in during 2010.
Steve's girlfriend Tracy Wilson has become his full-time carer while he waits to be enrolled in a residential programme for PTSD sufferers.
He will not talk about his experience of combat situations but that is typical of ex-servicemen who suffer from PTSD, according to experts.
The national charity Combat Stress specialising in the care of veterans' mental health said on average it more than 13 years from service discharge for ex-soldiers to seek help.
'On-going struggle'
Steve said a recent four-month prison sentence for a common assault might have been caused by, and even worsened, his PTSD.
"It would be an easy cop-out to blame it on PTSD - at the time I put it down to just being rowdy.
"But I think subconsciously it did have an impact because I was denying it at the time, friends of mine from the forces have been sent to prison too.
"That was my lowest point but it is an on-going struggle, I hear shouting in my head, crowds are an issue and sudden noises can affect me too."
Steve said what most people consider "normal life" can be challenging. Recently a shop alarm that went off while he was walking to the bus stop triggered a panic attack.
"A root issue with forces personnel is that the Ministry of Defence [MoD] will train a civilian to be a service machine but they don't take the soldier or serviceman and teach them how to be a civilian," he said.
'Huge scale'
Steve has been getting support from Shoulder to Shoulder, a pilot project run by about 40 volunteers and funded by the Royal British Legion.
The scheme offers a weekly drop-in session at Carrs Lane Church Centre in Birmingham where those seeking help are given advice and offered a mentor.
Co-ordinator Richard Burns said the project's initial target was to help 30 people during 2012.
He said Steve is one of 40 ex-servicemen and women currently on their books and there are another 20 on the waiting list. They receive up to five referrals a week from the legion.
Combat Stress, with a base in Newport, Shropshire, echo these figures and recently said the number of referrals it receives has doubled over the past five years. In 2007, it had about 20 referrals a month - now that figure has risen to 40.
Mr Burns said the problem in the West Midlands was far worse than he expected.
"The scale is huge, it's staggering and has totally blown me away realising the amount of need there is out there - the problem is so under-recognised.
"One in nine people in Birmingham is a veteran and a third of those suffer mental health issues.
"It sounds crude but it's easy to push a soldier around in a wheelchair but you can't 'see' PTSD - those problems aren't visible so there isn't the awareness in society," he said.
Homelessness among ex-servicemen is also a growing issue because some become too depressed to work to pay their rent and bills. He also said some do not receive Disability Living Allowance if they are diagnosed with PTSD.
Mr Burns said: "I used to work at a homeless charity where we would see one or two new cases a month but we've had five guys all walk in off the street to seek help from our weekly drop-in sessions."
He added the project will soon be introducing a 'family mentor' to work with a former soldier and his wife to help the couple cope with the effect his PTSD has on their relationship.
For 36-year-old Tracy, looking after Steve has become her main focus.
She said: "If he has an issue when we're out, you can see people looking - generally they just don't know that ex-servicemen suffer.
"I think there's still very much a perception that they can get over it, the idea that 'they joined the forces so they should have expected it.'
"But I don't think they could ever prepare for what they go through and experience in combat situations."
A spokesman from the MoD said: "The mental health of service personnel is a top priority and we have robust systems in place to identify and treat those with mental health issues.
"The vast majority of personnel who leave the Armed Forces each year make a successful transition to civilian life and only a very small percentage have difficulty making the adjustment.
"Some conditions are more common than others but serious mental illness is very uncommon with rates of PTSD remaining low, levels of mental illness in the Armed Forces broadly reflect those in the general population."
He added that the MoD offers a range of employment, education and housing support to all members of the Armed Forces and there is a wide range of help and support for all those that need it.