Kristian Thomas hopes success will save Earls Gymnastics Club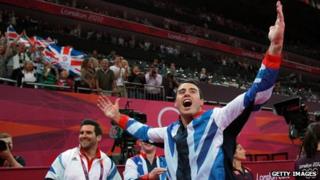 A bronze medal-winning gymnast has said he hopes his success at the Olympics will be the boost needed to save his threatened West Midlands gym.
Kristian Thomas, 23, was part of the first men's gymnastics team to win a British Olympic medal for a century.
The Earls Gymnastics Club, where Thomas has been training since the age of five, has struggled with funding.
He said he hoped having the Halesowen club in the spotlight from his success might encourage new investment.
The club, which rents its space from Earls High School, was funded by Dudley Council until 2000, and one-off payments from the authority to help it survive stopped in 2007.
Club leaders have said they fear that without more financial support, it could be forced to shut.
"It's been a really, really tough time," said Thomas, from Wednesfield.
"It's a great club - not just for how they've helped me, but also many of the others. Some of the juniors coming through now are showing lots of potential and it's essential it carries on.
"I am hoping my success will make a huge amount of difference and we can keep the club running."
Tracy Wood, the council's cabinet member for culture, said the club was one of the borough's "most prized sporting groups" and the authority was keen promote the work it did and help it apply for external funding.
Thomas's team, also made up by Louis Smith, Max Whitlock, Daniel Purvis and Sam Oldham, was initially awarded silver but, after an appeal from the Japanese team, were given bronze.
"It was disappointing but we went in expecting nothing - we would've just been really happy to finish in the top five," he said.
"The whole experience was just amazing - we were looked after so well and the response from the British public was just brilliant."
'Really nice lady'
At one point during the Games, Thomas was pictured talking to the Duchess of Cambridge during the men's pommel horse final.
"She was a really nice lady - and very enthusiastic to learn about gymnastics," he said.
"My phone was on silent in my pocket and I just knew the pictures were going out on TV because it just wouldn't stop vibrating with friends wanting to tell me they could see me and who I was with."
Thomas's mother, Cath, said watching her son in the finals of the team competition and his own individual event had been a nerve-wracking experience.
"I'm famous for not being able to watch - I'm always just too nervous," she said.
"I sit with my hands over my face and my fingers in my ears - I've even been known to sit with a flag over my face so I can't see anything.
"I want to block out the crowd noise so I don't know what's going on - but this time the crowd was so loud while they were cheering for our boys, it was impossible to avoid it. I'm very, very proud."
Thomas, who carried the Olympic torch through Smethwick prior to the Games starting, came seventh in the final of the men's individual all-around gymnastics event, something which he said he was also proud of.
"I'd only set myself a target of finishing in the top 10, so I was really pleased with that," he said.
"I'm aware there's going to be more pressure on me in the future - once you've got one Olympic medal, people expect more and more of you and I know there's more that I can do.
"But I know that putting myself under lots of extra pressure doesn't do my performance any good, so I have to find ways to deal with that."