Harry Moseley family receive Birmingham Broad Street star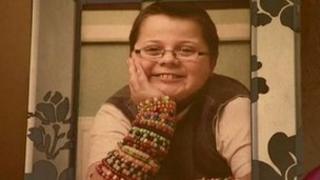 A Birmingham boy who raised thousands of pounds for Cancer Research UK has been honoured with a place on Birmingham's Walk of Stars.
Harry Moseley, 11, from Sheldon, raised more than £500,000 for charity by selling homemade bracelets before his death from a brain tumour last October.
His mother, Georgina, received the star at a ceremony earlier.
Other people who have stars on the walk include Ozzy Osbourne, Jasper Carrott and Nigel Mansell.
Broad Street Business Improvement District (BID), which manages the Walk of Stars, had previously turned Harry down for a star because rules specified they are only given to living celebrities.
But manager Mike Olley said they would waive the rules in this case.
More than 5,000 people had signed a petition and joined an online campaign to get Harry a star.
When the decision was announced in July, Harry's mother, Georgina, said: "It means the world because Harry wanted Birmingham to be very proud of him."