Fire at EMR scrapyard in Nechells now put out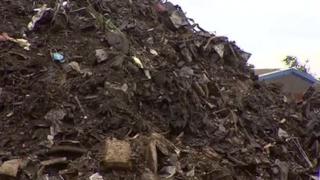 A blaze at a Birmingham scrapyard has now been extinguished, fire crews have said.
About 100 tonnes of scrap metal caught fire at the EMR yard, in Landor Street, Nechells, at about 19:00 BST on Monday.
About 45 firefighters tackled the blaze at its peak.
Fire officers had initially thought it would take several days for the fire to be completely put out. Investigators believe it was started accidentally.
Jim Sinnett, group commander at West Midlands Fire Service, said water did not penetrate the metal so it had to all be pulled apart and turned over in a "long and laborious process".
Mr Sinnett said the firm involved employed about 50 people and teams had worked to stop the fire spreading to the building and plant equipment.
"We just want to keep the business in business," he said.
A large plume of smoke was visible for miles after the yard fire broke out.