Team GB gymnast Kristian Thomas honoured with reception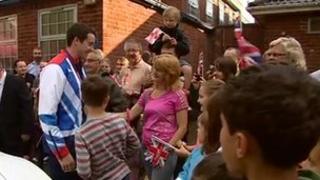 More than 200 people have welcomed home Olympic gymnast Kristian Thomas at a reception at his club.
The 23-year-old Team GB gymnast, of Wolverhampton, returned to Earls Gymnastics Club, Halesowen, after winning bronze in the London Olympics.
John Caulwell, club chairman, said he deserved a "hero's welcome".
Last week, Thomas described how he hoped his success would encourage more investment for the club, which has struggled for funding.
Mr Caulwell said: "It's the closest a lot of us will get to an Olympic medal and it's generated a lot of excitement at the club."
'An inspiration'
He described Thomas as the "kingpin" of the GB gymnastic team and said his achievements put the Black Country and the club "on the map".
Mr Caulwell, who has known Thomas for seven years, said seeing him develop had been an "inspiration", adding the gymnast was "someone our younger members can look up to because his dedication to training is second to none".
Lisa Godfrey, whose eight-year-old son Ben is part of the club's development squad, said watching Thomas train benefited the younger gymnasts.
Ben said he felt "special", training alongside the club's Olympic star.
He was met by the Mayor of Dudley Melvyn Mottram and Tracy Wood, Dudley Council's cabinet member for culture.
The gymnast was escorted into the club by Olympic torchbearer Chris Platts.