Police and crime commissioner elections: West Midlands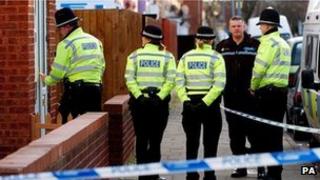 On 15 November, 37 police and crime commissioners will be elected in England along with four in Wales.
The PCCs, as they will be known, will be tasked with scrutinising their force and holding it to account. They will also be able to hire and dismiss the chief constable and set the force's budget.
The commissioners will be paid and are supposed to empower local people into having a say on how crime is tackled in their area.
Nominations for candidates in the West Midlands have now officially closed.
BBC News has taken a look at each of the police forces ahead of the elections.
West Midlands Police
The force is the second largest in the UK after London's Metropolitan Police, covering a total of 348 sq miles and serving nearly 2.8 million people.
Officers cover the cities of Birmingham, Coventry and Wolverhampton, along with the districts of Sandwell, Walsall, Solihull and Dudley.
The cities and towns include some of the UK's busiest shopping areas, and Premiership and Championship football grounds, which, along with other venues like the NIA and NEC, host concerts and events which attract millions to the region every year.
The West Midlands is made up of a diverse population, with 18% of people being from ethnic minority backgrounds.
Every day an average of 170,000 motorists travel through the region, making its motorways some of the busiest in Europe.
The force, which deals with more than 2,000 emergency calls every day, is divided into 10 local policing units (LPUs), each headed by a chief superintendent who is responsible for the overall policing and management of the area.
The LPUs are divided into a total of 171 neighbourhoods, each policed by a neighbourhood team consisting of police officers, police community support officers and special constables. Each one is supported by a range of force-wide specialist teams.
Above the chief superintendents sits the force's chief constable, Chris Sims, who is aided by Deputy Chief Constable Dave Thompson and four assistant chief constables.
The force is made up of more than 7,800 police officers, supported by 3,400 police staff, more than 540 special constables and about 715 police community support officers.
Funding
West Midlands Police Authority's total budget for 2012/13 is £546.48m, which fell from £577.55m in 2011/12.
Nearly £80m of that is made up contributions via the council tax.
A household in a Band D home pays £99.45 in 2012/13 towards the force in the council tax precept, compared with £180.96 for those living in the Warwickshire Police area and £178.72 for West Mercia Police.
However, the West Midlands Police Authority has previously said it does not have enough money to sustain its current service, and faces budget cuts of £125m over the next four years.
The force currently has a recruitment freeze in place and said in January that more than 2,700 jobs had to be cut by 2015.
Earlier this year, the West Midlands and Surrey forces announced plans to let private firms take over some of the police services, including guarding crime scenes, patrolling neighbourhoods and collecting CCTV footage.
A shortlist of potential firms was drawn up, but on 6 September Surrey Police announced it would be pulling out of the arrangement.
PCC salaries will vary depending on the size of the police force, but the salary for the West Midlands PCC will be £100,000.
Crime and performance
In July, the force reported it had achieved the lowest recorded crime levels since 2002, which it attributed in part to recent anti-crime campaigns and more tip-offs from local residents.
An inspection by Her Majesty's Inspectorate of Constabulary in March last year graded West Midlands Police as "fair" at dealing with local crime and policing, and in people's confidence and satisfaction of them.
It found the force performed "excellently" in protecting residents from serious harm. Inspectors said the force's performance in dealing with major crime, including organised crime, was "particularly strong" and was well prepared for outbreaks of public disorder.
However, they said that although overall levels of crime were falling, the risk of being a victim of violent crime - including robbery - remained "higher than in similar areas".