Stoke-on-Trent football matches cancelled by faulty goalposts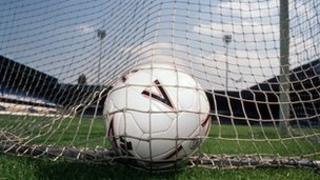 Goalposts on 58 council-owned football grounds in Stoke-on-Trent have had to be replaced after it emerged not enough cement had been used to secure them.
Sunday League teams had to cancel matches after the upgraded posts, installed by a contractor, failed to meet Football Association rules.
Council officials said work was done as soon as possible to resolve the problem once it was spotted a month ago.
They said most of the pitches were able to be used again this weekend.
Andrew Heaward, from the city council's sport and leisure department, thanked the teams involved for their understanding.
Kevin Bagnall, manager of Brown Edge Football Club, said the problems had affected some of their matches.
He said: "We tried to start the season a little bit earlier this year because of the bad weather we had in December and January, so we had hoped that, come the colder months, we might not have such a backlog again."
He said he feared the goalpost problems could lead to a bigger backlog this season if matches went on to be hit by frost and snow later in the year.