CCTV on Caunsell Bridge to catch drivers damaging 'our heritage'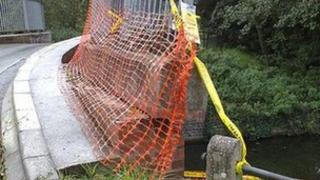 The Canal and River Trust is to install its first CCTV camera on a humpback bridge over a canal to try to catch motorists who crash into them.
The charity, which cares for 2,800 historical bridges across the UK, said drivers damage an average of one a week, leaving it to pay for repairs.
The camera will be on Caunsall Bridge, in Worcestershire, which has been hit six times in the last 18 months.
If the trial is successful, the charity may install more at other "hotspots".
The bridges are about 200 years old and were built "for the passage of horse-drawn carts, not for today's speeding motorists", a spokesman said.
'Not rocket science'
Caunsall Bridge, over the Staffordshire and Worcestershire Canal, near Kidderminster, is currently undergoing £30,000 of repairs.
A spokesman said: "Humpback bridges, synonymous with Britain's canal network, were built for the passage of horse-drawn carts, not for today's speeding motorists, who cause up to £1m of damage to bridges each year.
"The majority of accidents are "hit-and-runs", leaving the trust unable to recoup the cost of the damage from drivers' insurers and diverting vital funds away from work to conserve the nation's waterways."
Nigel Crowe, the Canal and River Trust's head of heritage, said it was working with local authorities to improve road signs and markings.
He added: "But frankly, if motorists just slowed down a bit and took more care and attention then they would stop this daily vandalism of our heritage.
"It really isn't rocket science - if you see a hump-back bridge sign then slow down and you will save yourself and us a great deal of expense and aggravation."