Birmingham economic zones plans unveiled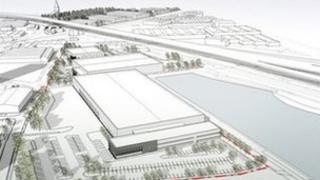 Plans for six new economic zones in Birmingham have been unveiled that the city council hopes will bring in £1.5bn of investment and create 50,000 jobs.
Zones will be developed across the city with each one tailored to attract a specific type of industry.
The first area earmarked for development is a 20 hectare (49 acre) site in Aston which is set to become a hub for advanced manufacturing.
Other zones include hubs for food and IT, electronics and communications.
The other three comprise a city centre enterprise zone, a life sciences campus and an environmental enterprise district.
The plans have been drawn up following research carried out by Birmingham City Council and the inward investment programme Business Birmingham.
Sir Albert Bore, leader of the Labour-run authority, said they were confident they could deliver their aspirations.
He said: "Birmingham has already shown its success [and] is an attractive place for investment.
"We're creating the sites to make it even more attractive.
"Birmingham has to do something about its transport infrastructure but we are successful in drawing in inward investment."
Neil Rami, the chief executive of Marketing Birmingham, which operates Business Birmingham, said the zones would be used to focus on successful industrial sectors in the city and create clusters of "like-minded companies".
Mr Rami said: "They do it a lot in Germany.
"We've seen that the Germans have attracted a lot of Chinese investment and when we talk to investors in China and India they want to see clusters.
"They want to be very clear where they can put their investment.
"The reality is that we can't be sure about 50,000 jobs.
"What the zones will do is bring new employment land on to the market very much focussed on the sectors that we know we have a competitive strength in and that we know companies want to invest in."
Mr Rami said there was no guarantee that the jobs created in the zones would be new.
"What's clear is 50% of all inward investment in the UK comes from existing businesses and they are as important to us as those from far afield," he added.