Millie-Mae Ormsby face of ataxia awareness campaign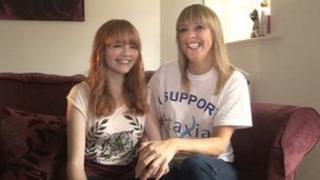 An 11-year-old girl from Staffordshire who has a neurological condition has been chosen to be the face of a new awareness campaign about the illness.
Millie-Mae Ormsby, from Tamworth, was diagnosed with Friedreich's ataxia two years ago.
For the next four weeks Millie-Mae's face will feature on buses across Birmingham.
Ataxia is the loss of co-ordinated bodily movements, which affects 10,000 adults and 2,500 children in the UK.
Early problems include unsteadiness and clumsiness, but vision, hearing and speech can be affected too.
'Pray every day'
It can be caused by a number of factors, including multiple sclerosis and brain tumours.
Millie-Mae has had to have spinal surgery to insert rods into her spine, which are adjusted every six months as she grows.
She suffers from Friedreich's ataxia, the most common form of the illness, which is caused by a fault in the gene code and leads to progressive damage to the nervous system.
Her mother Ellen Owen said: "I hadn't heard of ataxia, I Googled it and was utterly devastated.
"I don't know what the future holds for Millie. I just hope that she's as happy as she can be.
"I pray every day that there's a cure out there somewhere and that she'll be able to walk and talk properly again - and do all the things other children do."
Alison Stevenson, a research officer for ataxia UK, said Millie-Mae was "an outstanding girl", one of the reasons she had been chosen to front the awareness campaign.
The charity has set itself the target of finding a cure for one or all of the conditions by the year 2020, in a campaign called 2020 Vision.